Kamenný obchod

Adresa:
Malé náměstí 129
Hradec Králové
500 02

Otevírací doba:

Po-Pá
9-12:30
13-17:45
So
9-12
Nahlédněte do našeho obchodu


Více informací...
Košík
V košíku nemáte žádné položky.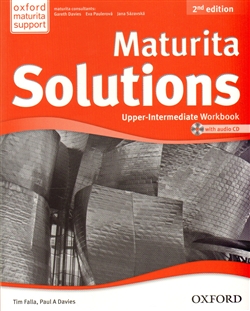 MATURITA SOLUTIONS 2ND EDITION UPPER INTERMEDIATE WORKBOOK WITH AUDIO CD CZECH EDITION
Paul Davies a Tim Falla
| | |
| --- | --- |
| Kategorie: | Knihy / Jazykové učebnice |
| Nakladatelství: | Oxford University Press |
| Rok vydání: | 2013 |
| Další informace: | kniha, 1× CD, brožovaná, 120 stran. An enhanced edition of the popular English course for secondary students, now with a multi-dimensional package to cater to a range of abilities in the classroom. A new, refreshed edition of the five-level English course for teenagers, with a clear structure, supported approach to speaking, practice, and exam preparation still at its heart. Solutions has been thoroughly modernized with 80% new content to draw in students, embed the grammar and vocabulary presented, and engage them in the tasks. Its guided approach builds up every student's confidence, through step-by-step objectives, lots of practice, meaningful personalization activities, and exam preparation tasks. The course now embraces a wide range of teaching methods, furnishing the teacher with a flexible pick-and-choose package for use in the classroom, at home, and on the move. The digital elements of the course enliven the material and allow teachers to vary the pace and focus of their lessons. Solutions turns all students into active learners, by offering a rich variety of learning opportunities for a whole range of abilities through extension and revision activities in all components - giving everyone a sense of achievement whatever their level. |

150 Kč
Do košíku...
Správné zobrazení a funkce stránek vyžaduje JavaScript.
Created by
Honzis
©2008