Kamenný obchod

Adresa:
Malé náměstí 129
Hradec Králové
500 02

Otevírací doba:

Po-Pá
9-12:30
13-17:45
So
9-12
Nahlédněte do našeho obchodu


Více informací...
Košík
V košíku nemáte žádné položky.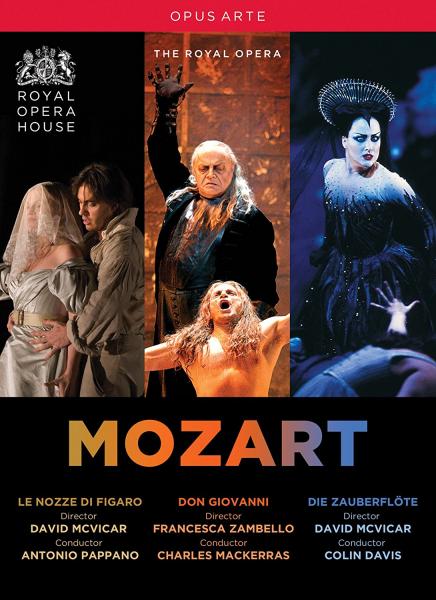 MOZART OPERAS – LE NOZZE DI FIGARO, DON GIOVANNI, DIE ZAUBERFLÖTE (BOX SET) 5 DVD
Wolfgang Amadeus Mozart
| | |
| --- | --- |
| Kategorie: | DVD / Hudba |
| Nakladatelství: | Opus Arte |
| Rok vydání: | 2014 |
| Další informace: | 5 DVD. Mozart Operas – Le Nozze di Figaro, Don Giovanni, Die Zauberflöte (Box Set) Composer: Wolfgang Amadeus Mozart Release Date: October 28, 2014 Conductors: Antonio Pappano (Le Nozze di Figaro) Charles Mackerras (Don Giovanni) Sir Colin Davis (Die Zauberflöte) Directors: David McVicar (Le Nozze di Figaro) Francesca Zambello (Don Giovanni) David McVicar (Die Zauberflöte) Artists: LE NOZZE DI FIGARO Erwin Schrott Miah Persson Gerald Finley Dorothea Roschmann Graciela Araya Ana James Rinat Shaham DON GIOVANNI Simon Keenlyside Kyle Ketelsen Eric Halfvarson Marina Poplavskaya Ramon Vargas Miah Persson Robert Gleadow DIE ZAUBERFLOTE Will Hartmann Dorothea Roschmann Diana Damrau Franz-Josef Selig Simon Keenlyside Ailish Tynan Adrian Thompson Choir: Royal Opera House Choir Covent Garden Orchestra: Royal Opera House Orchestra, Covent Garden Label: Opus Arte Language: English Subtitles: English (all), Spanish (all), French, German, Italian (Don Giovanni) Region: 0 (worldwide) Run time: 589 minutes (9 hrs., 49 mins.) Number of discs: 5 Containing three of Mozart's best-known and loved operas, this 5-disc box set features outstanding Royal Opera House productions of Mozart: Don Giovanni (2008), Mozart: Die Zauberflöte (2003) and Mozart: Le nozze di Figaro (2006) as well as a raft of world-class singers and conductors. "If one of the cast is to be named above the rest, that should be Joyce DiDonato, an outstandingly accomplished Elvira, brilliantly projected, interestingly conceived, her singing concentrated in tone. Miah Persson is an adorable Zerlina, and I liked what she and others were encouraged to do by way of vocal ornamentation." - Gramophone (on Don Giovanni) "Here is a Figaro to put with the 1973 Glyndebourne production placed among the top five operatic DVDs. Figaro and Susanna are very much the center here, and we like them not only because they sing and act well but because they are sympathetic in a modern way." - Gramophone (on Le Nozze di Figaro) "...a mellow warmth that was deeply satisfying. Simon Keenlyside...a triumph as quite the most engaging Papageno I have ever encountered... With an exceptional Queen of the Night, Diana Damrou, this is an evening no Mozart lover should miss..." - The Mail on Sunday (on Die Zauberflöte) BONUS BBC feature, Into the Opera House, looks behind the scenes of the productions The Magic of Mozart: Interviews with Antonio Pappana, David McVicar and principal cast Conductor Sir Colin Davis talks about Die Zauberflöte Cast gallery and Illustrated synopsis of the operas |

450 Kč
Do košíku...
Správné zobrazení a funkce stránek vyžaduje JavaScript.
Created by
Honzis
©2008